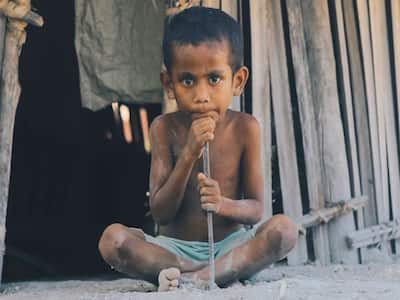 Malnutrition or nutrient deficiency is a major public health problem in India, with a third of the world's malnourished children living in the country.
India ranks 107th in the 2022 Global Hunger Index (GHI) out of 121 countries. But there is a bigger problem facing the country: poor diet or nutritional deficiencies among its population, especially among children and young women.
In a statement released last year, the Community Based Management of Acute Malnutrition (CMAM) Association of India warned that many children in the country are facing life-threatening severe acute malnutrition (SAM), especially after the COVID-19 pandemic has interrupted delivery of supplemental nutrition for nearly two years. The Association stressed the need for a fast-track community program to protect these children, especially those from vulnerable sections of society. The National Family Health Survey-5 (Phase 1) report also revealed an increase in the incidence of severe acute malnutrition in 16 of 22 states and union territories. In about half of these states, the incidence of SAM is higher in urban areas than in rural areas.
The majority of India's population (80%) suffers from MiND (micronutrient deficiencies), according to a 2022 report released by Bayer's Consumer Health Division. Globally, more than two billion people suffer from micronutrient deficiencies, and nearly half of those people live in India, he said. Experts have called it a "hidden hunger."
Dr Nandita Chakraborty (MD, DNB & Wellness Communication & EI Coach), trustee and general practitioner at the Lotus Petal Foundation, commented: "Access to nutritious food is a fundamental right of every individual. However, for children from disadvantaged backgrounds accessing even two meals a day is a challenge. This nutritional deficiency is generational."
Health effects of nutritional deficiency
The National Family Heath Survey 5 (NFHS-5) showed that the prevalence of malnutrition in children under 5 is as follows:
5% of children under five are stunted.
3% of children under five are undernourished.
1% of children under five are underweight.
According to the survey report, malnutrition among women aged 15 to 49 is 18.7%.
Speaking on the health effects of nutritional deficiency, Dr Nandita said, 'The lack of nutrition in young women not only affects their health, but also that of their children. While women are at risk of anemia, pre "eclampsia, hemorrhage and stillbirth events, there is also a risk of stillbirth, low birth weight, wasting and developmental delays for their offspring."
She added: 'Children's development and learning are affected by nutritional deficiencies. Both their physical and cognitive development can be hampered. Undernourished children show signs of lower energy levels and have difficulty concentrating and understanding what they are being taught. in class. Due to frequent sick days, we also noticed low school attendance among these kids."
How to improve nutrition for people in India
According to Dr. Nandita, infant feeding should start from the mother. "Maternal nutrition plays an important role in ensuring a healthy mother and healthy baby. Nutritional and gender inequality have greatly affected women's diets around the world and these need to be addressed. Various government programs such as integrated services for child development (ICDS), POSHAN (Prime Minister's Overall Scheme for Holistic Nutrition) Abhiyaan, etc. need to be implemented properly to reach more and more people and ensure the holistic development of women, children and adolescents," she noted.
Total Wellness is now just a click away.
Follow us on